Location of Lake Eyasi Tented Camp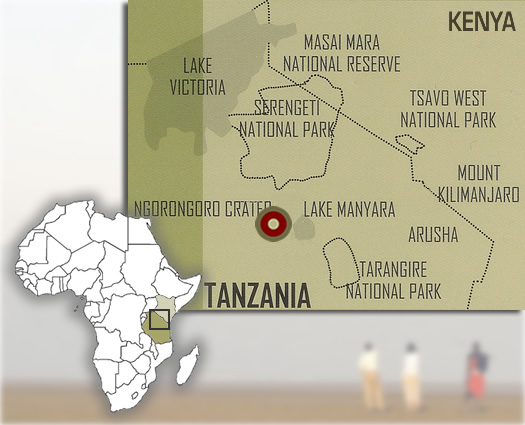 Lake Eyasi is a salt lake situated between the Rift Valley's Eyasi escarpment and the Kidero Mountains, the lake stretches for about 31 miles to the southwest. To the northeast the horizon is dominated by the impressive Crater Highlands and to the north the plains of the Serengeti.
It is a three hour drive from Arusha. After reaching Karatu town there is a diversion to Eyasi, from Karatu, it takes one hour drive.
The area around Lake Eyasi is home to the Hadza and Watindiga bushmen, some of the last remaining hunter-gatherers on the continent. The bushman live in groups hunting with bow and arrows and gathering roots, tubers and wild fruits.
The Hadzabe tribe is also known as bushmen. They are a very primitive people, who have no fixed abode. They have their own language which consists of tongue clicking sounds. They are hunters and use bows and arrows to kill their food, their favorite being baboon. They make their bows and arrows from a native willow tree which grows in the bush where they live, the arrows have metal tips which they get from the Datoga tribe.
The Datoga people are farmers and craftsmen. They are more sedentary and live in groups in mud huts. They grow their own food, keep cattle and the men craft earrings, bracelets, arrow heads, etc from metal melted on an open fire using hand bellows to stoke the fire.